You will find an interesting article about OB Wayne Coffin's business at the following link: https:ratcreek.org/a-two-generation-neighbourhood-hub/
Feel free to copy and paste the link into your web browser.
If you wish to honour and acknowledge a member of your family (alive or deceased) who served or is currently serving in Canadian Armed Forces, Allied Forces, Merchant Marines, Diplomatic Corps, RCMP, Provincial or Civic Police services aiding in reconstruction of war torn countries please fill out and submit the form below.
Full details noted in this registration form.
Lest We Forget Honoree Application Form
Donations made at the SAMIES June 18, 2022 meeting:
2836 1 Combat Eng. Regiment Cadet Corps
Alberta Cancer Society – Kids Cancer Care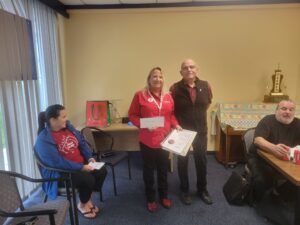 Stars Air Ambulance