A huge THANK YOU to the following SAMIES members and guests who volunteered at our Aug. 1 & 2 casino:
Art & Beth Brochu
Bill Cockburn
Marv & Joan Stachiw
Alasdair Gall
Fred and Deb Jans
Chris Henderson
Daryl Henderson
Jack Bowen
Alberta & Wakiko Yule
Ron Trettler
Ken Doucette
Sharon Skwarchuk
Dwayne Robertson
Jim Myers
If you wish to honour and acknowledge a member of your family (alive or deceased) who served or is currently serving in Canadian Armed Forces, Allied Forces, Merchant Marines, Diplomatic Corps, RCMP, Provincial or Civic Police services aiding in reconstruction of war torn countries please fill out and submit the form below.
Full details noted in this registration form.
Lest We Forget Honoree Application Form
Donations at the June 17, 2023 general meeting
Adopt-A-Teen
Youth Unlimited
From 1998 to date the SAMIES Club has proudly donated over $390,000 to Edmonton and Alberta Charities.
Participate, volunteer or sponsor a Veteran at the 2nd Annual Veteran's Association Food Bank Charity Golf Tournament
Now available to purchase at IOOB general meetings @ $15.00/each are our 50th Anniversary challenge coins.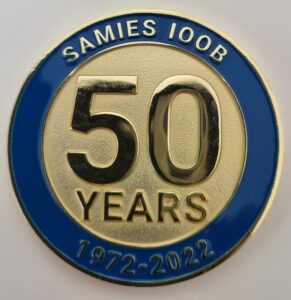 Side 1                                                                       Side 2